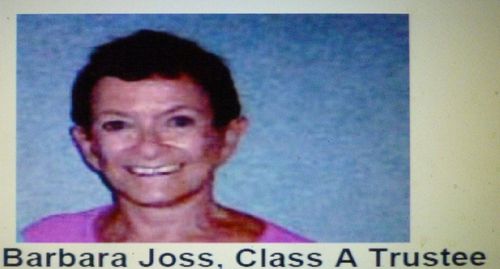 Discours du 2 avril 2010 - 45th National AA Convention, à Coffs Harbour - Australie
Thème : information publique

Good evening, I'm Barbara Joss – and I can tell you my surname because I'm a "Class A
Non-alcoholic Trustee" on the Board of Alcoholics Anonymous Australia. Tonight I want to explain what a "Class A Non-alcoholic Trustee" is and why AA needs them. Then, because it's relevant, I'll tell you a bit about my professional background.
But first I must say how I love the work that I am doing for AA. I'm getting around the country quite a bit, and have made many valued friends, and many are here tonight. I've even had a marriage proposal – from an AA (very) old-timer. Who, unfortunately, is not with us anymore. He only asked one question: "Are you any good in the kitchen"? to which I replied, "Yes". "Good", he said. "I sacked my last wife because she wasn't!"
But back to Class A's
AA was initiated in the US over 70 years ago by Dr Bob (a medical specialist) and Bill W (a stockbroker). When they found their method of, "one drunk talking to another", was working – over 50 "drunks" had got sober - they decided they needed to get the word out to the wider community. They thought, and I quote: "But who's going to believe a couple of drunks?" So in their wisdom, they created a charity structure and peopled the Board with doctors and lawyers. These "pillars of the community", who already believed in AA, became the first Class A Non-alcoholic Trustees of Alcoholics Anonymous.
The Australian Board of AA consists of 12 trustees: eight from the program and four, Class A's, enlisted for their skills. Class A's, as non-alcoholics, do not have to be anonymous and so, can represent AA and can show their faces in the media.
Which brings me to me
I've spent my entire life in the media - since before I was born. My father was current affairs cartoonist on one of London's three evening newspapers from before I was born into my late my teens.
In London, I performed in the West End, in films and on TV. In Australia, in addition to playing the title role in "Peter Pan", etc, I was also a reporter on Channel 7 and ABC Radio National, for which I made two one-hour programs, one of them on the subject of male-menopause!
After topping my year in the TAFE three-year Diploma in PR, I became a multi-award-winning media consultant specializing in national media campaigns on medical issues. And hence, AA.
On becoming a Class A, I had another vision - related to the media (surprise, surprise!). But that's another story…
P.S.
AA is always on the lookout for like-minded professionals who believe in the Program and its aims to become either Friends of AA or Class A Trustees.
One of my visions for AA since becoming a Class A Trustee, was that AA shows Community Service Announcements (CSA's) in the media that are made: in Australia by Australians, for Australians.
Having a major Australian media campaign would help AA in two ways: it would not only show the Australian public and professional community that AA Australia is not a secret society, it would also give a massive boost to AA members working in Public Information – what more visible hook could there be on which to hang all manner of PI introductions!
As advertising agencies charges are usually beyond its resources, AA Australia has always used CSA's primarily from AA in the US and UK.
My vision was that Australian advertising agencies would make Australian Community Service Announcements - known as CSA's, for AA Australian, for nothing – known as pro bono.
Larger advertising agencies, which can afford to, make a few CSA's pro-bono, for selected worthwhile charities for their own reasons (thereby complying with the AA constraint that we can't accept favors). The agencies' reasons are: to be seen as good corporate citizens; to stretch their creative staff – making an ad on deodorant is not exciting while making one on AA, is! So, CSA's are often entered in international and other competitions.
Some two years ago, five agencies volunteered to work with us but two had to drop out due to the global financial crisis. Of the remaining: one was the health arm of a multinational in Sydney, one in Perth and, one in Melbourne.
I'll tell you about the multinational, because it's an amazing story. At the start, the company stipulated that it would come on-board on the understanding that it would only provide $5,000 worth of creative services. I was concerned. But: One Day at a Time, I knew the answers would come! The creative director and staff were so enthralled with the project that they have now completed: • 2 CSA's for TV and On-line • 1 for Radio • 3 for Newspapers and Magazines • 2 for Train Stations • plus a selection for Shopping Centres and Buses.
Stop Press:
Sydney's Wynyard and Kings Cross are currently the first stations to show AA's monster billboards on their platforms (one per station). We also have a fantastic media-buying company looking after getting the material on-air, etc.
I am happy to say that starting with CSA's and posters,
THE CAMPAIGN LAUNCHES NOW!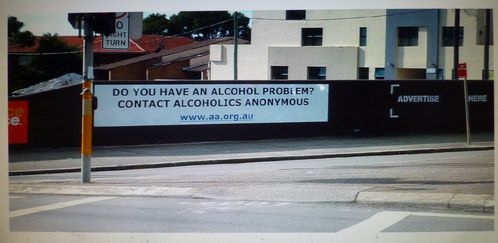 Corner Forest Road & Firth street - Arncliffe - New South Wales - Australie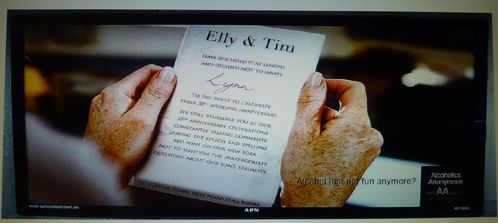 Kings Cross Station - Sydney - New South Wales - Australie